2023 is shaping up to be an excellent year for video games. There has already been a handful of top triple A titles released such as Hogwarts Legacy, Dead Space and Atomic Heart, as well as some excellent smaller games such as the surprise hit Hi-Fi Rush. Despite these excellent offerings, the year is showing no signs of slowing down just yet since there is plenty to look forward to on the horizon. One great example of this is Atlas Fallen, a brand new action adventure title that has piqued the interest of gamers around the world. Although some people have done a deep dive into the game, there are many who have been left wondering – what exactly is Atlas Fallen? Here we will be breaking down everything we know about the game thus far, including an analysis of a newly released gameplay trailer.
What is Atlas Fallen?
Atlas Fallen is an upcoming action adventure game developed by Deck13 Interactive and published by Focus Entertainment. Navigating a mysterious desert world, you will be tasked with hunting legendary monsters, acquiring powerful weapons and making use of sand-powered special abilities in fast paced combat encounter. Playing solo or in online co-op with a friend, you will be able to customize your playstyle in an engrossing story campaign. In terms of the story itself, the official description of the game states that you will need to rise from the dust to liberate mankind from the oppression of corrupted Gods. The world is called Atlas and sand is the key to everything since it is the basis of a form of ancient magic. The hero of the story will stumble across a mysterious artifact known as the gauntlet, which is capable of controlling the essence of the world held within the particles of the sand. This will allow you to manipulate the very structure of the world, surf on the sand, propel to new heights and unleash devastating combat. Despite the gauntlet's power, it will be broken at the beginning of the game and will require the player to restore it by seeking out various 'shards' around the world of Atlas.
Atlas Fallen Gameplay Details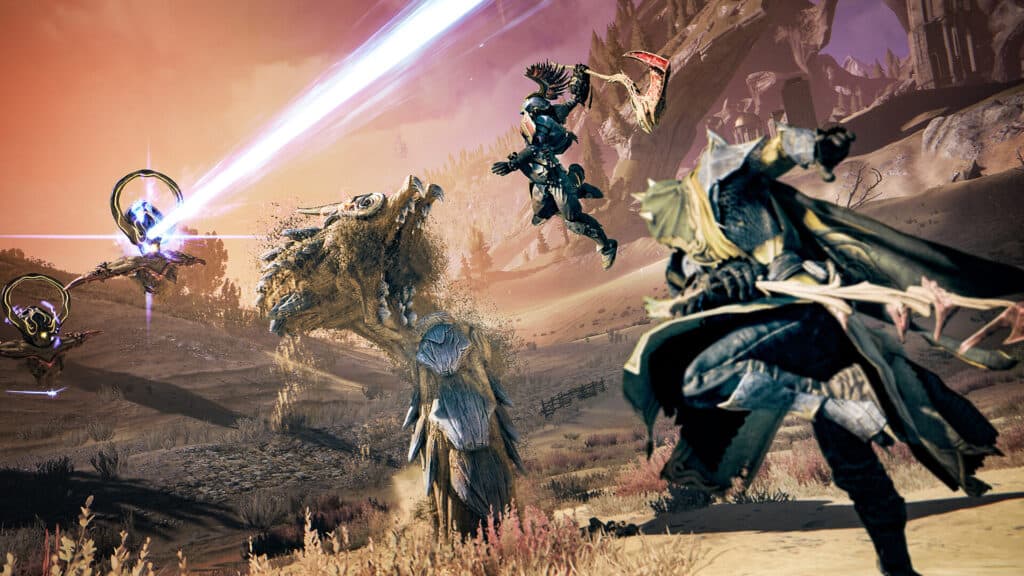 On the 15th of March, a brand new gameplay reveal trailer titled "Rise from Dust" was released. This gave us a glimpse at what we can expect from the exploration, mechanics and combat of the game. The trailer shows off a number of varied environments such as dusty deserts, vast mountainous valleys and squalid settlements while the player character is seen surfing around at high speeds on the sands of the open world. We then get a glimpse of some flashy combat, with the main character executing exciting melee combos on the ground and in mid-air. The enemies highlighted include dragons, monsters and beast alike and the player seems to be carrying out different elemental attacks to take them down. From the trailer, we can see a variety of different weapons including swords, flails, whips and hammers which all look to provide a unique combat move set. Moving around the world looks to be a real highlight and the high speed sand surfing is something we cannot wait to experience. The player is seen to be doing this with another person, seemingly showcasing the co-op capabilities of Atlas Fallen.
Atlas Fallen Developers
While the game certainly looked intriguing and high quality, it is often worth taking a look at the team behind upcoming titles to establish a sense of their capabilities. In recent years, German developer Deck13 Interactive has primarily been focused on 'soulslike' video games to capitalize on the popularity of From Software's Dark Souls, Bloodborne and Sekiro titles. This is evident in their last three major releases, including Lords of the Fallen, The Surge and The Surge 2. While these games do have some merit, they have not ascended to the upper echelon of gaming experiences, receiving mixed reviews and smaller player bases. Despite that, Atlas Fallen looks to be an entirely unique experience that has broken free of the studio's prior inspirations. On top of that, their previous games were strictly single player affairs, while Atlas Fallen will be incorporating cooperative gameplay.
In terms of the publisher, Focus Interactive, they have plenty of excellent experiences to their name. These titles include recent releases such as Atomic Heart, Evil West and game of the year nominee A Plague Tale: Requiem. This is promising for Atlas Fallen, since Focus Interactive seems to have a high bar for the games they are publishing as of late.
Atlas Fallen Platforms and Release Date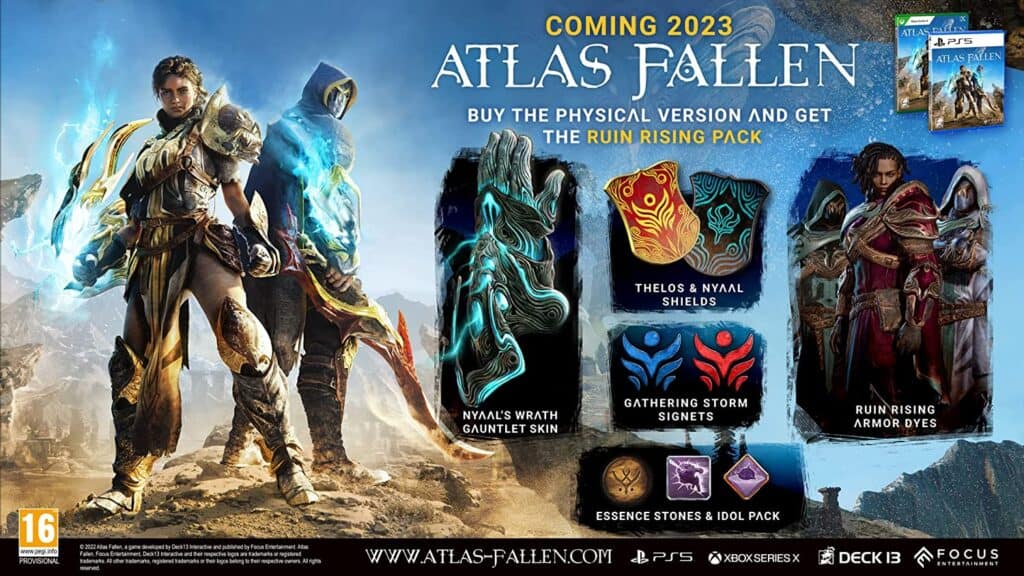 Atlas Fallen is exclusive to next generation game consoles, since it is striving for a seamless open world, high speed combat and rapid world traversal. This means that Atlas Fallen will be launching on PlayStation 5, Xbox Series X/S and Microsoft Windows when it releases on the 16th of May, 2023. While there is still a bit of a wait for the game, you can currently pre-order Atlas Fallen to receive some exclusive rewards when the game launches. This comes in the form of the Ruin Rising Pack which includes unique armor, essence stones, idol and an exclusive co-op indicator. Unfortunately, we do not currently have any details on Atlas Fallen's PC system requirements but be sure to stay tuned for an official announcement.
Conclusion
So there you have a breakdown of everything we know about Atlas Fallen at this time. With a release date just a few months away, expect to see much more information about this epic experience released in the coming weeks. For more on Atlas Fallen and all things gaming, check out our extensive News section.