When Vampire Survivors initially released into early access in late 2021, many people were quick to write it off as just another simplistic 2D pixel game. Oh how wrong they were. Developed mostly by just one person, Vampire Survivors is a chaotic roguelike bullet hell game that quickly ascended to be one of the most played games on Steam. Now that the full game has been released on PC, Xbox, PlayStation and even mobile devices, we got a chance to spent quite a few hours with this quirky title to see if it lives up to the hype. Here is our comprehensive review of Vampire Survivors.
One Button Controls?
When you fire up Vampire Survivors for the first time, you are presented with a simple menu that transitions into a character select screen. There are a few characters which are not unlocked yet, meaning that you must start with the game's initial vampire slayer, Antonio. He is equipped with a whip which gains 10% more damage for every 10 levels you advance. After confirming your choice, you are spawned into a 2D stage rendered in straightforward but nostalgic pixel graphics. It is quickly discovered that this game has just one button. Yes, just one button. You move around the level with your analogue stick, touch control or directional keys and your weapon will automatically fire every few seconds. Enemies are marching toward you from the edge of the screen and you must maneuver your character to avoid them touching you, whilst also allowing your automatic attack to damage them. When you defeat enemies, they drop gems which progress a bar at the top of the screen. When this bar fills, you will level up and be presented with a choice of an additional weapon or piece of equipment.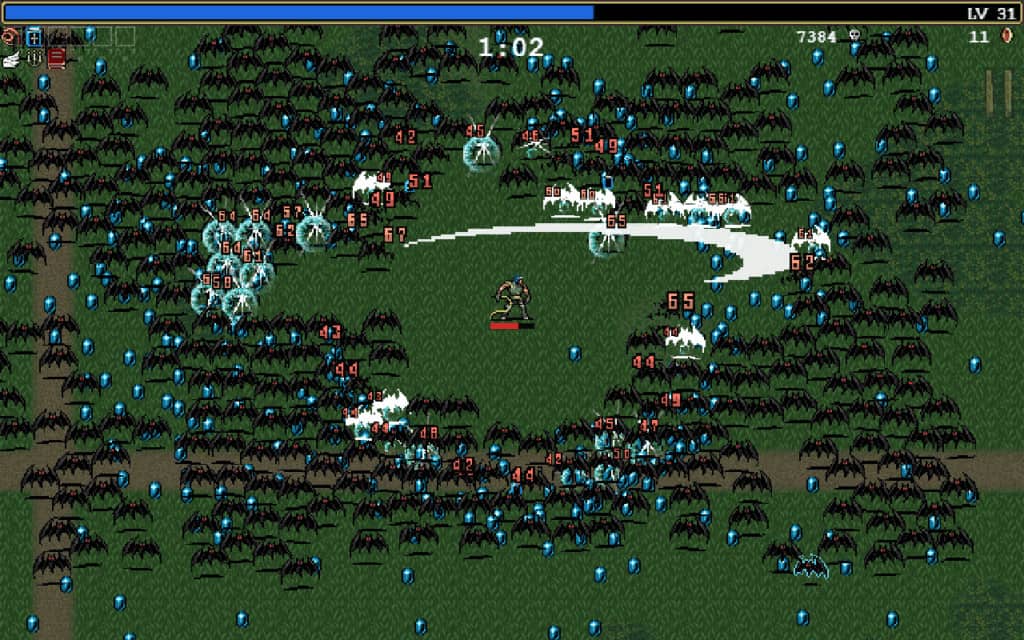 This all seems very basic at first, until you start to level up a few times and acquire a few weapons and abilities. There is a bible that spins around your character to damage enemies, a wand that shoots magic bolts, a knife that shoots in the direction you are facing and much more. There is also a timer on the screen and after a couple of minutes, the amount of enemies that are being thrown at you increases drastically, resulting in some incredibly chaotic moments. Inevitably, you will be overwhelmed by the swarms of bats, skeletons, zombies and ghouls and be sent right back to the title screen. Once this happens, you will see that you have accumulated some coins throughout your first few runs that you can use to unlock new characters or powerups. Each character has a different starting weapon and stats, affecting how quickly they move, how durable they are and more. The powerups will give you a variety of permanent boosts such as increased armor, health and attack duration.
Satisfying Unlockables
So after you have unlocked a few characters and powerups, you will find yourself advancing further through the level, unlocking new weapons and equipment as your progress. This loop is incredibly addictive and it feels like you are consistently working towards that next unlock. There are a series of achievements and challenges in the game, which can reward you with new equipment, characters, levels and even menu options. There is a constant sense of discovery as the game expands beyond your initial expectations.
Not only is there a wide variety of weapons and equipment, they can also combine with each other to form new and powerful variations. Discovering these combinations is an absolute blast and will allow you to form builds that are almost unstoppable. When you do become this powerful, you are fending off thousands of monsters as they hurl toward you, making the screen and game difficult to read. While this chaos is part of the fun of Vampire Survivors, it can be visually jarring and make the game hard to follow in the final moments of each run. After the 30 minute mark, you are instantly killed and must start from scratch. It is up to you to determine if you can progress past this 30 minute mark, with some bosses spawning across the various levels.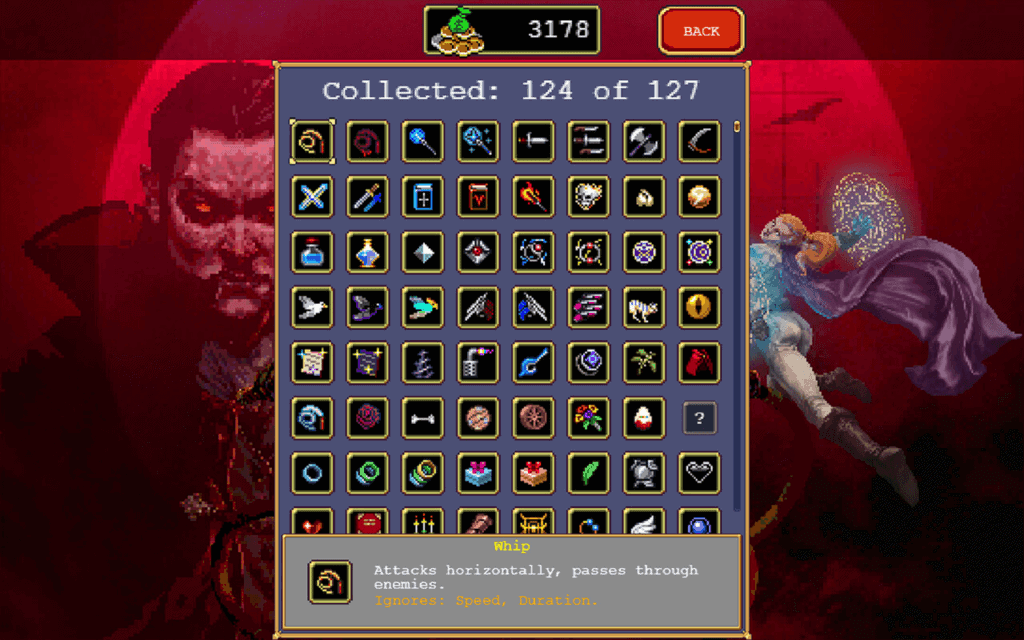 There is not really any story or lore to speak of, although there are plenty of humorous moments and nods to other media. For instance, you will find a health restoring 'floor chicken' by breaking light sources such as lamps in the game. This is a hilarious reference to Castlevania's 'wall chicken' item. It should also be said that the music here is absolutely mesmerizing, with some incredible tracks that heighten the chaotic encounters and set the scene in the various levels. There are spooky forests, gloomy castles and a haunted dairy factory, for some reason.
Game modes and more
Not only is there a wide variety of characters, weapons and levels, there are also a plethora of game modes which shake up the experience. These modes can impact the game by speeding up the timer, doubling XP gain or simply making the runs endless.
If all of that wasn't enough, late into the game you are presented with a system known as Arcana. This system gives you a choice of cards which have modifying effects on the game and there are plenty of them. One card makes all of your weapons explode upon impact. Another gives you 3 revivals after death. When you combine all of the different variables, each run feels entirely unique and will have you jumping in again and again.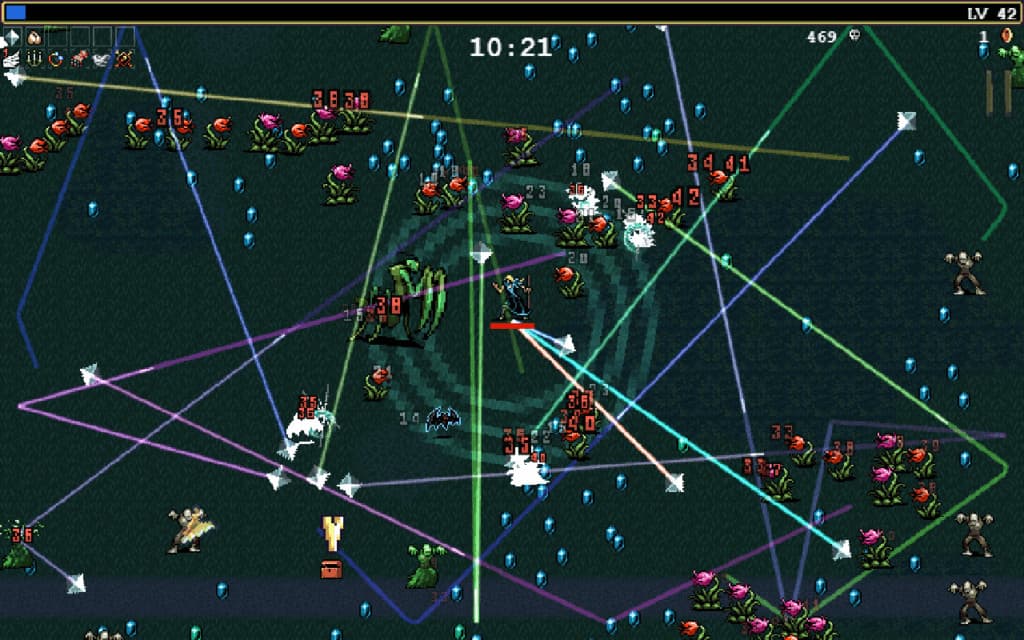 Conclusion
Despite appearing simplistic on the surface, Vampire Survivors manages to boil down everything that makes video games fun and distill it into one incredible and affordable package. By constantly unlocking new equipment, discovering secrets, popping achievements and advancing your power, it is an extremely addictive experience. With deep systems and unique builds, every run of Vampire Survivors is a complete joy and will keep you engaged for days on end.
For more, check out our other game reviews and check back for the latest verdicts.